Global Strategies
U.S. Stock and ETF Universe
The global equity strategies incorporate the use of both U. S stocks (universe used for All Domestic Equity strategy) and International Country and Country-Blended ETFs (universe used for MRM's Dynamic International strategy.)
Quantitative Evaluation & Ranking
Each universe is evaluated and ranked separately, focused on identifying the most attractive U.S. Stocks and International ETFs. As investment candidates for each strategy are identified, the strategy-specific model isolates those that meet criteria and rank at the top of each universe.
Portfolio Construction
Global portfolio construction consists of three important steps. Bottom-up evaluation of each top-ranked investment opportunity list generated by both the international and domestic quantitative modeling and then analysis of the combined global portfolio allocations.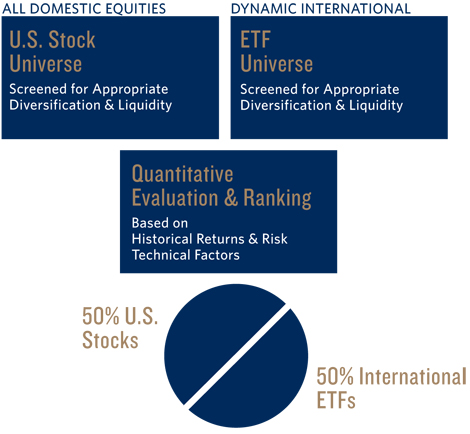 Resources