The 1/29 FOMC statement was generally perceived to be slightly more dovish, and the IOER rate was increased 5 bps to 1.6%




MRM NET COMPOSITE PORTFOLIO RESULTS (As of 01/31/2020)
MRM Group claims compliance with the Global Investment Performance Standards (GIPS®).
Please contact MRM Group to obtain a Compliant Presentation and/or MRM's list of Composite descriptions.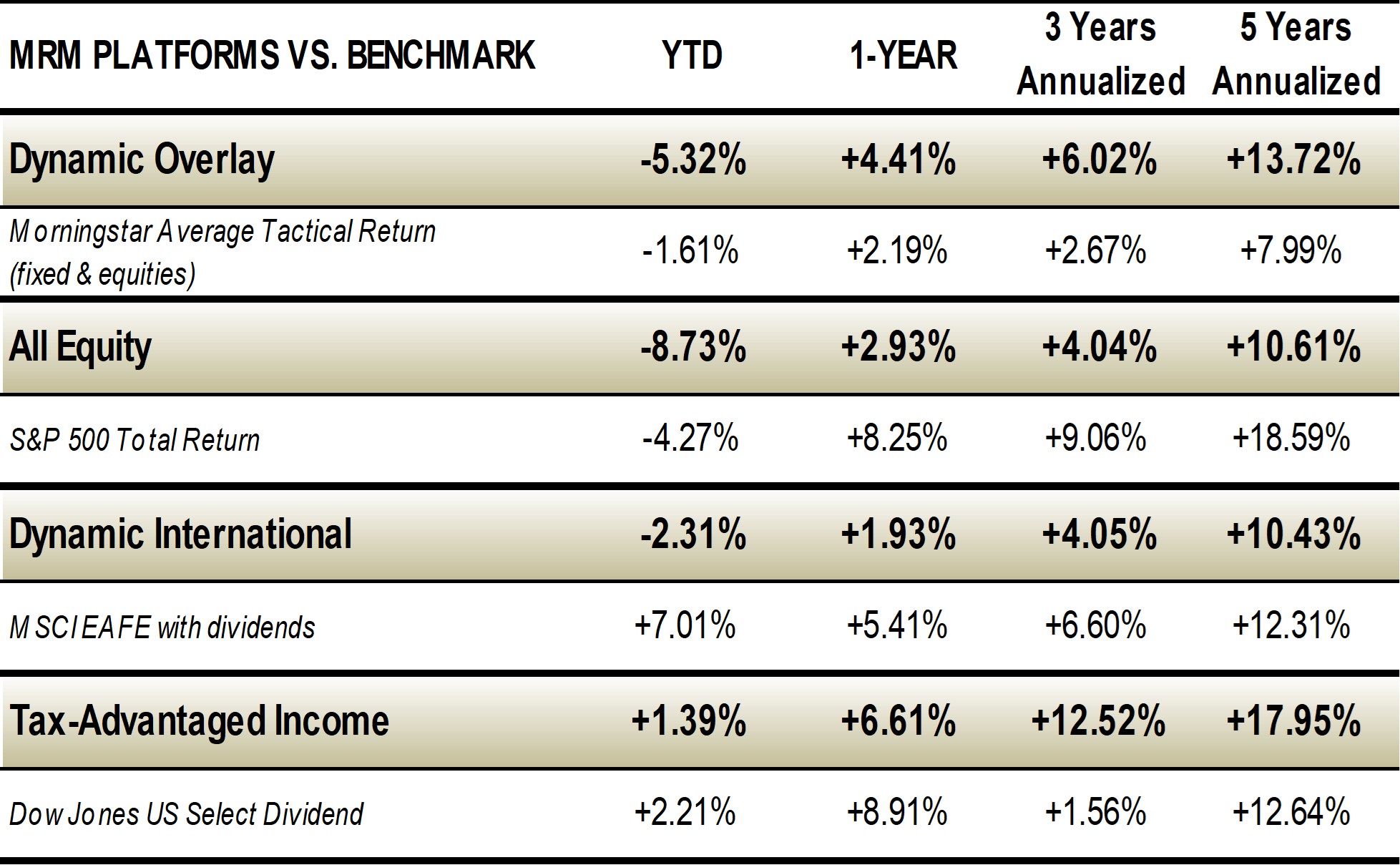 2020 So Far
It has been a busy start to 2020, with market concerns ranging from war with Iran to the outbreak of a deadly virus in China and a presidential impeachment trial somewhere in between. Despite the headline noise, risk markets performed reasonably well for much of January, but momentum clearly turned in the final week of the month on coronavirus fears in China. Through January 23, the S&P 500 had a robust MTD return of 3.02%, but the index gave up all gains in the final week, finishing the month with a -0.05% return. The move in Treasuries was more straight-line throughout the month, with strong demand emerging from all investor types amid geopolitical (Iran, impeachment, etc.) and coronavirus concerns. Long-end yields fell 40 basis points (bps) in January, and the curve flattened 15 bps.
Coronavirus
Fears that a coronavirus outbreak in China could spread globally sparked a risk-off trade in global financial markets over the last week. The deadly virus initially emerged in Wuhan, China, and quickly spread to every part of the China mainland, as well as confirmed cases in many more countries. One might ask why financial markets would be so concerned about a virus outbreak in one country, and it wouldn't be an unreasonable question. That said, the markets are ultimately focused on the economic impact of a widespread contagion, particularly when it involves the world's second largest economy (impact on consumption, manufacturing, etc.).
China
Adding to those concerns was the start of Lunar New Year celebrations in China, which typically involves heavy travel amongst its citizens (i.e. higher risk of widespread contagion). Some are looking back at the 2002-2003 SARS outbreak as a good point of comparison to assess potential risks. The SARS outbreak also originated in China, ultimately infecting more than 8,000 people with around a 10% mortality rate. It ultimately took 9 months before it was considered "contained" by the World Health Organization (WHO). GDP growth was significantly impacted for one quarter, but it quickly rebounded in the following two quarters. Not surprisingly, tourism was the most affected sector, and retail sales also weakened.
MRM'S VIEW
The January 29 FOMC statement was little changed from the prior meeting, although some are interpreting the adjustment of the inflation outlook as a more dovish tone. As expected, there was no change to the fed funds target range. The committee did choose to raise the interest on excess reserves (IOER) rate 5 bps to 1.6%. In our view, we are almost sure we will see enormous liquidity from China and our own FED, which will result in higher equity prices.
Source: ALM First

MRM model holdings as of December 31, 2019
IMPORTANT DISCLOSURES
MRM Group, Inc. ("MRM") is an SEC registered investment advisor and an independent management firm that is not affiliated with any parent organization. Using quantitative selection methods, each MRM strategy searches within a well-defined universe of securities, using consistent investment criteria to identify attractive investments and create diversified portfolios. MRM seeks to provide long-term capital growth by generating above-market returns, protecting principal and managing volatility.

The portfolios do NOT use inverse or leveraged ETFs. Universe vehicles may change, from time to time, when approved by the principal of MRM Group at its sole discretion.
BENCHMARK NOTES
The S&P 500 Index with dividends is an unmanaged composite of 500 large-capitalization companies whose data is obtained from the Standard & Poor's website. S&P 500 is a registered trademark of McGraw-Hill, Inc. The MSCI EAFE Gross Index is a free float-adjusted market capitalization index that is designed to measure the equity market performance of developed markets, excluding the U.S. and Canada, with data from the MSCI website using price with reinvestment of dividends. The performance of blended benchmarks is shown for comparison because MRM uses securities which track indices related to these products. An investment cannot be made directly into an index.
DISCLOSURES
MRM Group claims compliance with the Global Investment Performance Standards (GIPS®). MRM has been independently verified for the periods January 1, 2008 through present. The verification report is available upon request. Verification assesses whether (1) MRM has complied with all the composite construction requirements of the GIPS standards on a firm-wide basis and (2) MRM's policies and procedures are designed to calculate the present performance in compliance with the GIPS standards. Verification does not ensure the accuracy of any specific composite presentation.
Technical trading models are mathematically driven based upon historical data and trends of domestic and foreign market trading activity, including various industry and sector trading statistics within such markets. Technical trading models, through mathematical algorithms, attempts to identify when markets are likely to increase or decrease and identify appropriate entry and exit points. The primary risk of technical trading models is that historical trends and past performance cannot predict future trends and there is no assurance that the mathematical algorithms employed are designed properly, updated with new data, or can accurately predict future market, industry, and sector performance.
Valuations are computed and performance is reported in U.S. dollars. Client performance may differ based upon the structure of a particular investment program. For example, some programs are structured as wrap fee programs in which trading costs and brokerage commissions are included in one all-inclusive wrapped fee. As such, these costs may be higher than if the client were to pay trading costs and brokerage commissions separately. The standard management fee is 2.0%. Deviation from the model's diversified structure may result in different risk, return, and diversification characteristics and would therefore not be representative of the models.
All information contained herein is for informational purposes only. This is not a solicitation to offer investment advice in any state where it would be unlawful. There is no assurance that this platform will produce profitable returns or that any account will have results similar to those of the platform. Past performance is not a guarantee of future results. You may lose money. Factors impacting client returns include individual client risk tolerance, restrictions client may place on the account, investment objectives, choice of broker/dealer or custodians, as well as other factors. Any particular client's account performance may vary substantially from the program results due to, among other things, commission, timing of order entry, or the manner in which the trades are executed. The investment return and principal value of an investment will fluctuate dramatically, and an investor's equity, when liquidated, may be worth more or less than the original cost. Investors should consider the investment objective, risks, charges, and expenses carefully prior to investing.
Investors should not rely on charts and graphs alone when making investing decisions. Investments in securities of non-US issuers involve investment risks different from those of U.S. issuers, including currency risks, political, social, and economic risks.
Net-of-fees returns are presented after advisor, management, custodial and trading expenses. The net of fee returns are calculated using actual management fees. The actual fees charged vary and range from .5% to 2.2%, depending on the size of the account and the custodian.
All MRM platforms are suitable for long term investing.
Please read the fact sheets and disclosures for each platform carefully before investing.